Our Story
A Love Of Wine Grows In China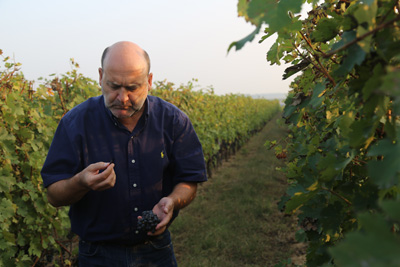 Like many successful investors, our founder Dr Karl Hauptmann put all his efforts into something he really likes a lot and for which good friends and business partners call him 'wine lover' and 'visionary'. As creator of Telor Capital Management, a family holding company for private investments with headquarters in Prague and a former Managing Director of Merrill Lynch International and senior manager at Bankers Trust International in London, Karl's lists of achievements in the business realm are considerable.
A chance meeting and an opportunity to realize a dream in the wine industry is all what was needed for Karl to make an investment from passion for the fruits of the vine. Karl's interest in wine blossomed in 1987 at a business lunch with Japanese business partners who were also avid wine lovers. The top wines from France caused Karl to develop a great interest in wines from the most famous wine regions around the world, and to taste wines with most finesse. After establishing and nurturing two successful wineries - Bessa Valley in Bulgaria and Alira Winery in Romania - Karl decided to open his third wine venture in China. Convinced that high quality was synonymous with distinction, Karl and his team began to search for the ideal land to plant a top-class vineyard with a great site to build a beautiful winery in China. The aim was to become well known for producing world class wines, unrivalled in flavor and body.
Through careful research of soil at over 50 different sites in China, Karl finally found a home for his prestigious winery at Nine Peak Mountain in 2008. The land was chosen for its promising Terroir – a wished-for perfect alchemy between soil, climate and "the work of Man".
Nine Peak Mountain also inspired the name of the winery Château Nine Peaks and the Nine Peaks wine range. Today Château Nine Peaks consists of 150 hectares of rolling hills and terraces. The plantation was done with vines imported only from France to secure the highest quality of grapevines selections. In this sense the Château carries on the classic French traditions of winemaking. After 3 years of tireless effort and uncompromising cultivation, the first vintage was produced in 2011. As the shining star of the Shandong Province the Château produces more than 350,000 bottles of wine and has been listed in top hotels, restaurants, specialized wine shops and high-end retail chains in mainland China, Hong Kong and even in France.